If you're planning your first-ever game, then you must wonder what to wear to paintball? After the equipment, the most important decision you need to make is what are the best clothes for paintball? 
While there might not be a specific paintball outfit, some items are essential if you're going to enjoy the game. In this article, we're going to give you a pretty decent idea of what to wear for paintball.
For these paintball clothing tips, we're going to start from shoes and work our way upwards.
Paintball Shoes
The most injuries from paintball usually occur to the ankles. Twisting and spraining ankles are fairly commonplace. It's understandable when you think about some terrains you'll be playing on. Especially if you're playing outside.
You'll have obstacles to navigate, boulders, rocks, half-buried tree branches and even the odd tree stump or two. Plus, it's dead easy to land awkwardly when you're jumping over or from things.
So, the choice of shoes for paintball is important. First, you shouldn't worry about your shoes getting muddy or even soaked. If ruining your shoes is going to be an issue, pick a fresh pair. 
They need to give you ankle protection, so a boot would be preferable. Hiking boots are always a popular choice. As are soccer cleats, because the studs will give you some extra grip.
Never wear open-toed sandals or a flimsy pair of gym shoes. A rugged pair of old trainers will fit the bill, though.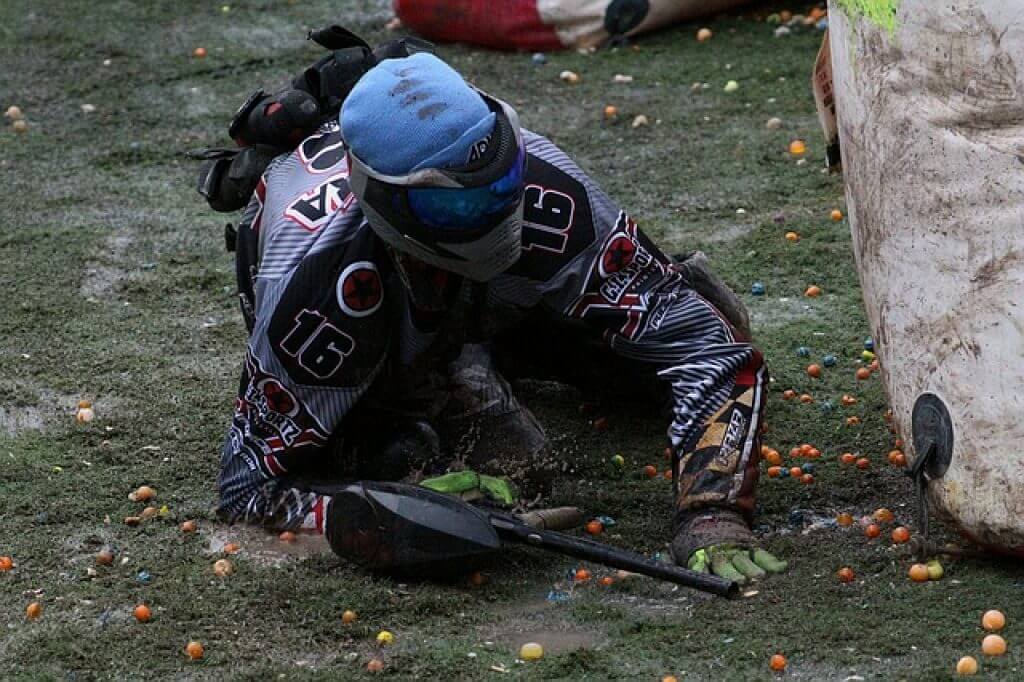 Paintball Pants
Getting the best clothing for your legs needs some careful thought. You need a pair of pants that are thick, but still pretty lightweight, so you can move around easily. Especially if it's raining or you're playing snow. They don't want to be getting heavier and more cumbersome to run around in.
As we talked about with shoes, some of the ground you'll be playing on can be strewn with all kinds of debris, rocks, and gravel/stones. You can even come across thorny bushes, that will snag your pants and if they're not thick enough, the thorns can give you some nasty scratches.
A pair of loose-fitting sweatpants or denim jeans would work. You might want to double up on the sweatpants. There are pants made for paintball if you want to invest in a pair of those.
Remember, you'll be crawling, jumping, kneeling and probably hitting the ground hard, all activities where your pants are going to count.
Paintball Shirt
Getting hot comes with the territory when we're talking about paintball. So wearing masses of layers is not such a good idea.
So pick something lightweight with long sleeves. A Paintball can travel up to 200 mph, so if one hits you on bare skin, you'll feel it. So avoid leaving any exposed skin.
It's unnecessary to go all out buying special clothes for your first few games of paintball. Although down the road if you play woodsball, later on, a trip to the local army surplus store might be a good idea.
Most parks will supply you with a rented camouflage combat suit for gameplay. Also, they may provide players with custom-made paintball body armour that protects from shoulder to waist. So cut back on the layers.
Another point to remember is the clothes you choose to bring to the game, should be a set you're not worrying about. As we said your clothes can get pretty banged up, ripped, torn and otherwise ruined.
Valuables And Jewelry
Take nothing like this out to the field with you. Valuables can easily get lost in the heat of battle. I have known jewelry to injure players in the past, so leave them in the locker back at the clubhouse.
Paintball Gloves
The most exposed part of the body in paintball are the hands. You'll always be leading with the marker in your hands, especially when firing at the enemy. So you're going to take hits to the hands.
If your hands lack protection and you take hits to exposed skin it will sting and probably bruise your hands.
Gloves need to offer protection. But at the same time don't want to be bulky, you have to be able to wrap your finger around the marker's trigger.
Some ideas that work well are an old pair of leather golf gloves and fingerless weight lifting gloves.
Paintball Headgear
If you decide you love paintball and will play regularly, then investing in your own mask and goggles will make sense.
You absolutely never want to get hit in the face or eye with a paintball. It's nigh on impossible to play the game without the appropriate headgear, anyway.
While you can rent it, you'll still feel a lot more comfortable and confident in buying your own facemask.
The really excellent thing about the best goggles and masks is the sheer variety of sizes, prices and styles.
While the mask you choose doesn't have to cover the whole of your head, it needs to be a full face mask. Make sure the mask fits snugly, doesn't slide around or slip. A good one will have foam inside to help with comfort and the fit.
Another important point is the mask needs good ventilation. For getting plenty of air, when you're breathing heavily, to stop your mask fogging and does not restrict communication with your team.
Spare Clothes
After the game, you're going to need another set of clean, dry clothes to change into for the ride home. You'll have paint all over you and if it's a wet day, more than likely plenty of mud.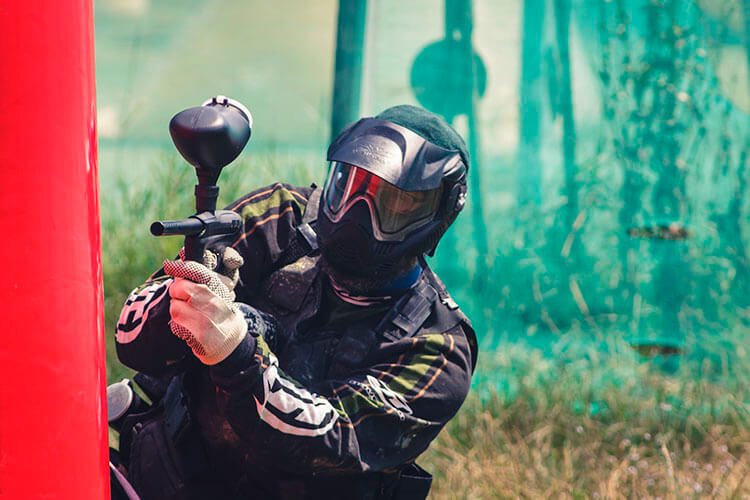 Best Paintball Clothing Quick Checklist
Paintball mask and Goggles 
Long Pants: denim jeans or sweat pants
Baseball cap, hoodie or beanie for hair and head protection 
Long sleeve shirt with a sweatshirt over
Hiking boots, military boots, running shoes, or soccer cleats
Gloves. Strong but lightweight. Fingerless.
Layer clothing for additional protection
Conclusion
What to wear to paintball and picking the right clothes and equipment is key to enjoying yourself at paintball. Concealment from the opposing players is another factor you should consider when picking your paintball clothing.
Don't make yourself so conspicuous with loud clothes, you'll last longer in the game.