A paintball mask is the first and most important line of defense against paintballs flying at your face at over 200 mph! Unfortunately, choosing the best paintball mask can sometimes seem like a game of Russian roulette. With dozens of different models out there touting this new innovation and that, how are you supposed to know which one to pick? Well, you come here of course!
The result of hours of testing and several years of both real-life and paintball battlefield experience, this guide and the paintball mask reviews below will become your go-to resource for finding the best paintball masks on the market each and every year. There are a lot of cool paintball masks out there, but if you want to find the right one for your budget, needs, and skill level, do yourself a favor a keep your eyes glued to the screen.
Our Top Recommended Paintball Masks
What is a Paintball Mask?
A paintball mask protects your face and helps you see clearly for improved accuracy. There are four essential parts that make up a paintball mask. Although some models have other features, the four primary parts of a paintball mask include: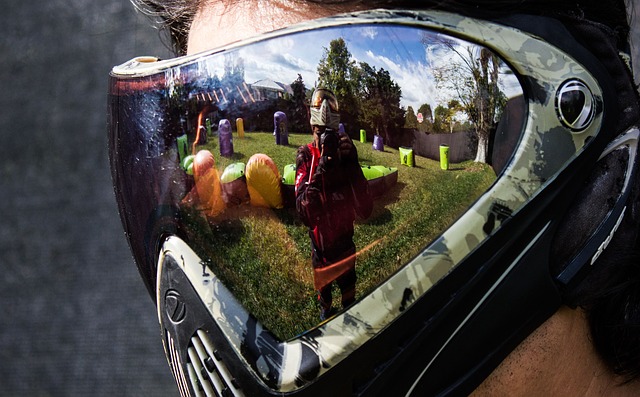 Unlike snowboarders and motocrossers, paintball players don't wear paintball helmets with separate paintball goggles. Instead, they wear masks that feature built-in lenses designed to be removed for easy cleaning and replacement.
There are several types of paintball lenses, including thermal and single-pane. They can also have colored tints, such as glacier blue or smoke. For players interested in a custom paintball mask, swapping out the lenses for a different color is usually one of the first things on their to-do list.
The skirt of a paintball mask pertains to everything under the lens. With most paintball masks, the skirt wraps around the sides to protect the entire chin and upper neck. The skirt is also where most of the ventilation takes place, and nearly all paintball face mask models feature slots or meshed areas to help prevent fogging and allow for easier breathing.
Many quality paintball masks also cover the ear. Some ear sections are soft, and some are hard; some are short, and some are tall. Many paintball players rarely think twice about ear protection, but it's crucial for keeping your ears safe and allowing you to hear the action around you.
The strap obviously keeps the mask secured on your head. Let's be honest, there's nothing too sexy about a strap. However, many players choose to personalize their straps to create custom, cool face masks. In fact, some collectible straps can even be bought for upwards of $100 or more.
Best Paintball Mask Reviews
1
Dye Precision I4 Thermal Paintball Goggle
Worn by the Los Angeles Ironmen professional paintball team, the Dye Precision I4 Thermal Paintball Goggle is considered by many as the best paintball mask on the planet. This top-of-the-line Dye paintball mask is the successor to the insanely popular I3 and is packed with even more features, making it a dynamic addition to anyone's paintball protective gear.
The Dye Precision I4 Thermal Paintball Goggle looks awesome, and like its name suggests, it's thermal, allowing it to make mincemeat of fog in the most humid of conditions. Meanwhile, its lens is UV-resistant as well, so it performs just as well on bright and sunny days. With terrific field of vision and a number of other truly awesome design details, there's no other paintball mask anti fog like it.
Dye paintball masks are some of the best around. If you anted up for the most expensive paintball gun, don't settle for a subpar mask. Both you and your gun deserve a great mask. You deserve the Precision I4 Thermal.
Specifications
Anti-fog thermal lens
Scratch and UV-resistant
Rapid lens change system
Compression-formed earpiece
Tiger teeth retention system
Multi-directional venting
PROS
Great overall design
Top-quality construction
Very hard to fog up
Excellent padding
Good ventilation
Looks super cool
Very popular
CONS
Doesn't feature a visor
Not ideal for players with larger heads
2
Tippmann Valor Paintball Goggle Mask
The Tippmann Valor Paintball Goggle Mask is the ugly stepchild of most paintball mask reviews. Yet, due to its affordability and level of protection it provides, the Valor remains a mainstay in the paintball gearbags of players around the world.
Ideal for beginners and casual players only one step down from needing a full paintball helmet, the Tippmann Valor offers solid protection at a great price. It isn't a skull paintball mask and doesn't feature any cool mask designs, but it does have a few features that make it well worth its paltry asking price.
With an anti-fog spherical lens, quick-release lens system, adjustable visor, silicon-backed goggle strap, and expanded protection area, it provides a lot of bang for the buck.
Specifications
Spherical anti-fog lens
Quick-release lens system
Adjustable and removable visor
Full frontal ventilation
Silicone-backed goggle strap
PROS
Inexpensive
Very sturdy and durable
Wide field of view
Simple design
CONS
Lack of customization
Low-quality foam
3
Empire E-Flex Paintball Goggle System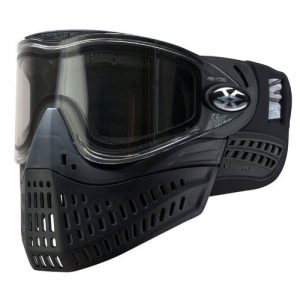 The Empire E-Flex is a lightweight, rock-solid paintball mask that deserves to be mentioned in any best paintball mask conversation. Unlike hard plastic paint ball masks or a full head paintball mask, the Empire E-Flex features a soft face cover and skirt that are designed to flex with your movements for superior comfort in the heat of battle.
The Empire E-Flex doesn't disappoint in the lens department either. With an excellent thermal treated dual-layer lens, it's a true thermal paintball mask and will only fog up in the most extreme conditions. Thanks to its thick and comfortable foam supports, excellent ventilation, and full ear protection as well, this empire paintball mask is one cool paintball mask fit for players of all ages and skill levels.
Specifications
Thermal anti-fog lens
Soft and flexible face skirt
Hypoallergenic ProFlex face foam
Quick change lens system
Front and side vents
PROS
Provides excellent vision
Great lens change system
Skirt detaches
Good ventilation
Easy to disassemble
Very comfortable
CONS
Big and bulky
Not the best looking mask around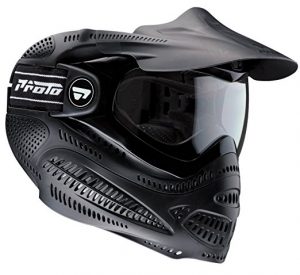 If you love a great value, you're going to LOVE the Proto Switch EL Goggle. In addition to providing full face and head protection, this menacing looking paintball helmet and mask also offers features typically found on masks costing at least twice as much.
For instance, like many of the other great options found in these paintball mask reviews, the Proto Switch EL has an anti-fog lens. Although it's only single-pane, the lens also features an exterior hard coat for extra protection and scratch-resistance.
If that weren't enough, which for the money it should be, this full face paintball mask is also equipped with multi-ported ear pieces, decent foam padding, and great unidirectional venting, helping to literally make it one of the coolest paintball masks around.
Specifications
Full face paintball mask and helmet
Triodial single-pane anti-fog and scratch-resistant lens
Patented lens removal system
Unidirectional venting
Multi-ported earpieces
Visor included
PROS
Provides excellent protection for your entire head
Looks fearsome
Great clarity
Made for a baller on a very limited budget
Terrific value
CONS
Foam around nose can be uncomfortable for some
While fog-proof, it doesn't reduce fog as well as many more expensive models
5
HK Army KLR Thermal Paintball Mask
The HK Army KLR Thermal Paintball Mask is one of the most innovative, comfortable, and customizable paint ball mask options on the market. It doesn't have a cool name like many other high quality masks, but after one use of this kick butt mask you'll appreciate the fact that the guys at HK spent more time developing a quality product than they did a catchy name.
Composed of strong yet comfortable and lightweight thermoplastic elastomer, it provides superior protection and comfort, which is a rare combination to say the least.
As one of today's best paintball masks, the HK Army KLR also features a high-definition, UV-resistant dual-pane lens, patent-pending PVTLock quick-change lens system, compression molded earpieces, dual-density face shield, and more. With over 20 color and style options to choose from as well, it's a killer paintball mask designed to please every player.
Specifications
Thermoplastic elastomer and
3D memory foam interior
Hi-Def, UV-resistant dual-pane lens
PVTlock quick-change lens system
Compression molded earpieces
Three co-molded HDPE inserts
Custom straps
PROS
Looks awesome
Great lens
Extremely comfortable
Good ventilation
Anti-fog
Easy to customize
CONS
No visor
A little hard to hear
6
V-Force Grill Thermal Paintball Mask
Imagine Darth Vader with a paintball gun instead of a light sabre and you'll get a good idea of what you'll look like with the V-Force Grill Thermal Paintball Mask. Right up there with some of the best in the business, this V-Force paintball mask is designed to look super tough and perform with some of the best in the business.
This kind of praise doesn't come lightly, but this mighty mask is lightweight, super comfortable, and provides ultimate face protection. Featuring a lightweight design, revolutionary foam replacement system, fully flexible soft rubber ProGrill face cover, anti-fog and anti-scratch sunglass-inspired V-Force lens, and a boatload of other premium features, it's the crème de la crème of paintball masks.
The only real negative with the V-Force Grill Thermal Paintball Mask is the lack of color and style options. Let's just say if you have your heart set on a camo paintball mask or a mask with another cool design or color other than black, blue, lime, white, or purple, the V-Force may not be for you.
Specifications
Thermo-cured anti-fog and anti-scratch V-Force Lens
3D lens shape
Full-flex ProGrill face cover
Built-in forehead bounce panel
Low-profile design
ProVisor
Quick-change strap
Foam replacement system
PROS
Very lightweight and comfortable
Looks great
Excellent wraparound protection
Thermal anti-fog lens
Great ventilation
A ton of positive reviews
CONS
Paint can sometimes come through vents
Lack of color and style options
7
Proto Switch FS Paintball Mask
The Proto Switch FS Paintball Mask offers complete head protection and a revolutionary design, making it one sly paintball mask in every sense of the word. With a patent-pending lens changing system, replacing lenses with the Proto Switch is a breeze. Plus, the outer frame keeps the lens securely in place with no need for ugly protruding tabs, resulting in a clean, seamless style.
As far as the lens itself is concerned, the proto Switch FS comes with a cutting-edge Triodial anti-fog lens. Other neat design details of this awesome anti fog paintball mask include a flexible combination density foam interior, multi-ported earpieces, adjustable visor, and unidirectional venting, all of which combine to make it the best paintball mask for the money you're going to find anywhere.
If you've been looking for a paintball mask with fan, you're in luck because it comes with an optional fan as well. It may not have a ton of paintball mask reviews, but if you're on the hunt for a high-quality mask at a great price, the Proto Switch FS is a clear cut winner.
Specifications
Full face paintball mask and helmet
Triodial anti-fog lens
Patented 1/4-turn lens changing system
Comfortable combination density foam interior
Multi-ported earpieces
Unidirectional ventilation
Adjustable Switch Visor
PROS
Comfortable, lightweight design
Provides total head and face protection
Very well-made
Doesn't fog up
Inexpensive
Easy to clean and change lenses
CONS
Very comfortable but may be a tight fit for some heads
8
Dye Precision I4 Thermal Paintball Mask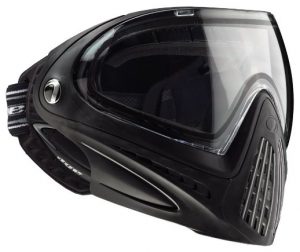 Better looking and even more high-tech, the Dye Precision I4 Thermal Paintball Mask is truly one of the most awesome and cool paintball masks being made today. This sleek and sophisticated paintball mask provides superior protection, a super comfortable fit, and one of the best fields of view in the industry.
The low-profile mask features an advanced compound radius thermal lens for ultimate vision in any environment and a stylish, lightweight design for superior comfort and good looks. When you consider its dual-stage foam interior, excellent ventilation, I4 rapid lens change system, compression formed ears, and other smart design elements, it's clear the Dye Precision I4 Thermal paintball mask is of the best around.
Whether you're looking for youth paintball gear or custom paintball masks that look great and perform even better, you can't go wrong with the Precision I4.
Specifications
Compound radius thermal lens
I4 rapid lens change system
Dual-stage foam interior
Multi-directional ventilation
Compression formed ears
Tiger teeth retention system
PROS
Looks awesome
Great design
Provides excellent vision
Hard to fog up
Very lightweight
CONS
No visor
Can be a tight fir for some players
9
JT Spectra Flex 8 Full Head and Face Thermal Paintball Mask
The JT Spectra Flex 8 Full Head and Face Thermal Paintball Mask is classically cool and great in every way. As the latest and greatest from JT's Flex line of products, it's arguably the top paintball mask for players of all ages in need of full head and face protection.
While this seriously cool JT paintball mask doesn't come equipped with a paintball mask fan or any other fancy high-tech gizmos, it offers industry-leading ventilation, a 260-degree field of vision, Spectra's low-profile design, and superior protection only a true full face helmet can provide.
With an affordable price tag and hundreds of glowing paintball mask reviews from a wide-variety of players just like you, the JT Spectra Flex 8 is tough to beat.
Specifications
Full head and face coverage
260-degree field of vision
Insert molded vents
Low-profile design
Adjustable visor
PROS
Looks downright cool
Provides complete head protection
Great field of view
Superior ventilation
Decent fog-resistance
Very popular
CONS
Lens can be tough to remove and clean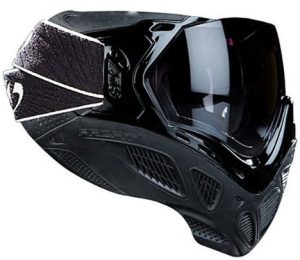 Last but definitely not least, the Sly Profit LE Paintball Mask is another excellent option for today's paintball players. Created after years of rigorous design and testing, this professional-quality mask features a super durable nylon frame with a flexible TLR lower, integrated double-strap goggle with an optically correct thermal gradient lens, lightning-fast lens release system, and a super comfy velvet-lined foam interior for ultimate comfort, performance, and protection.
Considering all of these cutting-edge features, it's safe to say I saved the best for last with the Sly Profit LE. With endless rave reviews and reputation for being one of the best paintball masks in the industry, it will serve you well in any terrain or conditions for years to come.
Specifications
Optically correct thermal gradient lens
Patent-pending lens release system
Co-molded nylon frame
Shock-absorbent velvet-lined SBR foam interior
Flexible TPR lower
Integrated double strap goggle
[/su_list]
PROS
Super comfortable
Velvet-lined foam interior feels amazing
Great fit
Terrific lens
Very breathable
CONS
No forehead or neck coverage
A little pricey
Factors to Consider When Buying a Paintball Mask
As you know, the sport of paintball involves evading getting hit. However, when paintballs are flying directly at you at 200 mph, getting out of the way is all but impossible. That's why you need a great paintball mask!
Since you can't trust your dome in the hands of any old paintball helmet, you need to consider a few key factors in order to find the best one for you. Some of these factors include: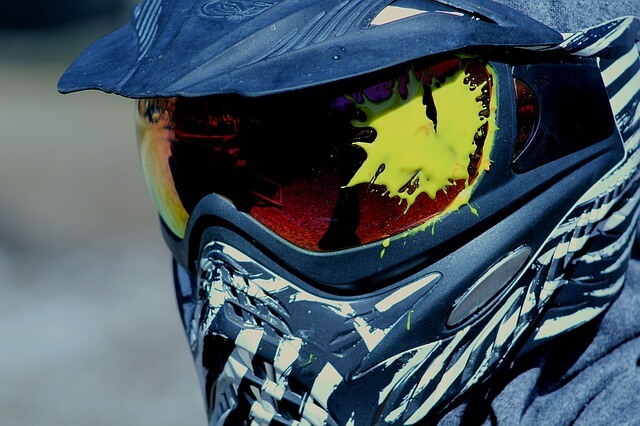 The first and most obvious point to keep in mind when shopping for a paintball helmet is your budget. Paintball is an extremely fun sport, but it can also be an expensive one.
Since paintball masks are available in a wide-variety of price ranges, try to pick a price point and stick to it. Doing so will allow you to actually buy some paintballs and have some fun.
Style of Paintball You Play
Next, it's important to consider the style of paintball you play or plan on playing. Not all paintball masks are designed for every type or style of play. Since comfort is crucial in order to truly enjoy the sport, a certain mask may be more comfortable and better suited for the type of paintball you like to play.
For example, if you like to get knee deep in the woods for hours on end playing woodsball, you'll want a mask with plenty of ventilation and room to breathe. You don't really need to worry about getting a low-profile mask like you do in speedball or CQB.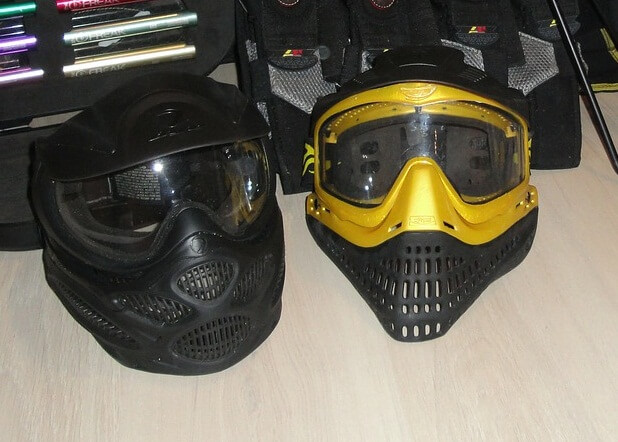 Lastly but most importantly, you need to think about fit. Not all heads are alike. Some are larger than others. Some are round and some are egg-shaped. Therefore, you need to pick out a helmet that will be a good fit for your specific head.
Fortunately, many quality paintball masks, such as the ones in this guide, are made to fit well on a variety of head shapes and sizes. Nonetheless, it's important to keep fit in mind and stay away from any helmets that are better suited for smaller heads if you have a larger head, and vice versa.
Seeing is everything in paintball. After all, you can't hit what you can't see. However, lens quality often differs drastically from one paintball mask to the next.
Therefore, you need to pay special attention to lens quality when reading paintball mask reviews and try to choose a model with a wide field of view and an anti-fog and anti-scratch lens if your budget allows. As you can see from the reviews above, however, you don't need to shell out big bucks for a mask with a great lens.
Where to Buy the Best Paintball Mask

Not long ago, you had to go down to your local paintball store (if you had one in your town) in order to buy a paintball mask. If you're looking for a paintball mask for sale today, however, you can purchase one from the comfort of your couch.
Although there are several brick and mortar stores selling cheap paintball masks and other paintball gear these days, the best deals are often found online from manufacturer websites and Amazon, which has hundreds of differrent paintball masks for sale at deeply discounted prices.
With the click of a button, you can have a brand spanking new premium or cheap paintball mask of your choice arrive right to your door, regardless of where you live. Don't you just love technology!
Making the Decision
Okay, so you've got the itch and need a quality paintball mask ASAP. Well, since you've made it to the end of this guide, you know more about awesome paintball masks than most pro players, so all you have to do is pick one out. With our tips and in-depth paintball mask reviews, picking out the best paintball mask for you should be a breeze.
Three days from now you could be reading this guide again and still spinning your wheels, or you could be kicking butt and taking names on the speedball field. So, read this guide one more time if you must and click the buy button on an awesome paintball mask today.
Not only will it protect your face, but you'll feel like an invincible Storm Trooper the next time you play!