If you play paintball and you need the best paintball mask, then you've come to the right place. If you believe you have to spend a lot of money to get a paintball mask, then you would be wrong.
It's not about cost, it's more about your preferences and what works for you. It could be you're looking for a full face paintball mask for protection, or maybe you need an anti-fog paintball mask. Our list of the best paintball masks is sure to offer the exact functions and durability you need for your next game of paintball.
Our Top Recommended Paintball Masks
What is a Paintball Mask?
A paintball mask protects your face and helps you see clearly for improved accuracy. There are four essential parts that make up a paintball mask. Although some models have other features, the four primary parts of a paintball mask include: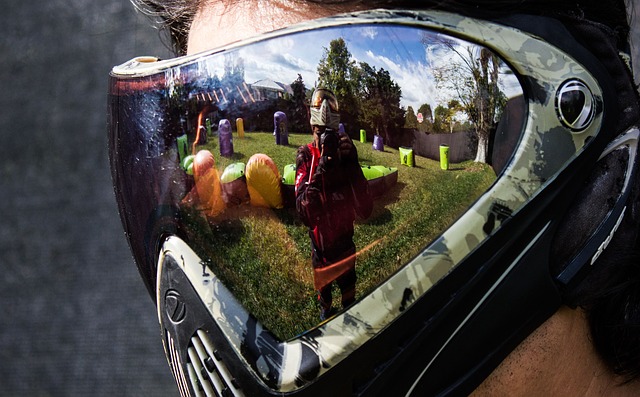 Unlike snowboarders and motocrossers, paintball players don't wear paintball helmets with separate paintball goggles. Instead, they wear masks that feature built-in lenses designed to be removed for easy cleaning and replacement.
There are several types of paintball lenses, including thermal and single-pane. They can also have colored tints, such as glacier blue or smoke. For players interested in a custom paintball mask, swapping out the lenses for a different color is usually one of the first things on their to-do list.
The skirt of a paintball mask pertains to everything under the lens. With most paintball masks, the skirt wraps around the sides to protect the entire chin and upper neck. The skirt is also where most of the ventilation takes place, and nearly all paintball face mask models feature slots or meshed areas to help prevent fogging and allow for easier breathing.
Many quality paintball masks also cover the ear. Some ear sections are soft, and some are hard; some are short, and some are tall. Many paintball players rarely think twice about ear protection, but it's crucial for keeping your ears safe and allowing you to hear the action around you.
The strap obviously keeps the mask secured on your head. Let's be honest, there's nothing too sexy about a strap. However, many players choose to personalize their straps to create custom, cool face masks. In fact, some collectible straps can even be bought for upwards of $100 or more.
Best Paintball Mask Reviews
1. Dye i5 Paintballing Goggles
Best Paintball Goggles
The Dye i5 a badass and a really cool paintball mask design. Technology-wise is way ahead of other masks on the market. It's a proper step up for paintball masks.
Some features are amazing, for instance, it's equipped with a dual-thermal lens system, one of a few paintball masks that don't fog. A great paintball mask for glasses.
To play a game like paintball, you need excellent peripheral vision and the Dye i5 gives you that to perfection. With the Tirodial Horizon 290 degree anti-fog lens, you get horizontal and vertical peripheral vision.
A larger vent design and a patented blade angling help to remove heat and moisture from inside the goggles. Sound does not reverberate inside the goggles when you're in communication with other players. Paint won't be able to get inside the mask.
The foam inside the helmets can be a source of discomfort to many players, so they end up replacing the foam themselves. Dye has added soft-touch foam, which they can change out if they need to.
One area that is often vulnerable to hits is the ears. Dye has solved that with these goggles by using compressed foam ear pads.
PROS
Anti-fog dual-pane thermally coated lenses
Padded ear protection
Rapid lens change
Compatible for glasses
Patented Blade angling
Increased vent design
Dyetanium lens for UV protection
Removable helmet foam
CONS
2. Virtue VIO Contour Paintball Goggles/Masks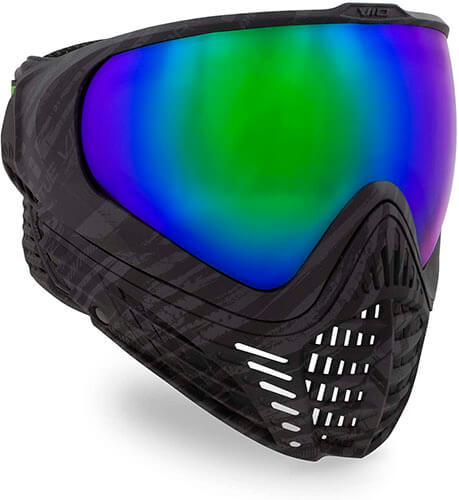 Best Thermal Anti Fog Paintball Mask
The Virtue V10 gives a wide field of view for players with their V10 lens technology. The facemask is semi-flexible. To help make it more secure when the player is running and jumping around they have added 3D molded foam Pro Pad which gives better grip and comfort.
Enlarged goggle straps and some upgraded adjusters make it a lot easier making alterations while in gameplay.
The helmet has rigid color accents, but they are muted so you don't stand out against any background, reducing your target profile. 
To finish the mask off are quick change 100% UV protected, thermal and anti-fog lens. All the parts are interchangeable so you can make your mask as unique as you want.
Even with headshots, the V10  will wipe clean quickly, helping to keep you in the game.
PROS
No Interior reflection
Extremely comfortable
Great Protection
Fog Resistant
Wide choice of color and styles
No communication issues
Vents supply enough airflow
A snug fit no movement
CONS
Difficult to fit camera mount
No Visor
3. JT Spectra Flex 8 Full Head and Face Coverage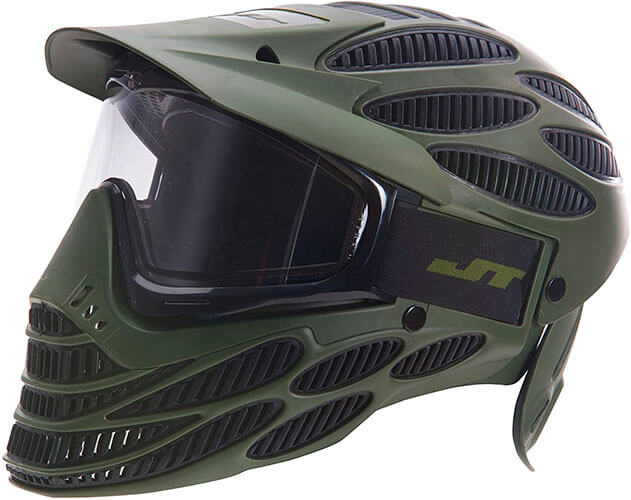 Best Full Face Paintball Mask
The JT Spectra comes with a brilliant 260-degree field of vision and a modular mask system that is easily upgraded if needed. Very little fogging with this mask, even in the middle of gameplay in hot temperatures.
Breathing is a cinch with the Spectra's vent system. No gasping for breath here. It needs to be a good vent system because the helmet is a full head and face mask. There is also a removable visor. Other features include soft ear pads, molded vents to aid in deflection and improved hearing capabilities.
If your head is on the large size, the helmet will fit, but you might find the tip of your ears showing below the helmet. The helmet is low profile which makes it easier than many other masks to use sights.
If you want to film your gameplay, it's dead easy to attach a side-mounted camera to the helmet. The lens is fog-free, which as everyone is more than aware of, is the bane of all rental goggles or masks. 
Spectra have made the mask to be very comfortable with some cushioned foam which has not added to the weight. You can take a direct hit to the head with this mask on and barely feel it.
PROS
No fogging
Tremendous field of vision
Comfortable fit
Excellent ventilation
Low profile
Upgradable
Full head and face coverage
Removable visor
CONS
Cannot remove bottom face or top helmet portions
Bigger heads leave earlobe exposed
4. Virtue VIO Ascend Thermal Paintball Goggles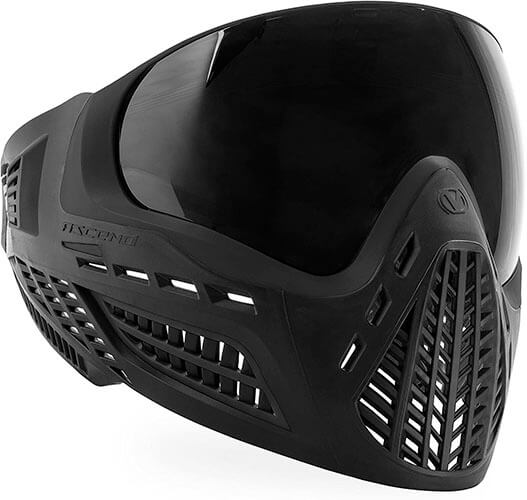 Best Half Face Paintball Mask
The Virtue V10 Ascend is a mid-priced half-faced paintball mask. It has an excellent range of design features including, comfort, design and safety.
The mask can be customized to your personal taste with 18 different lens, 16 visor options, 32 cool paintball mask straps.
Other than for aesthetics why is it important to be able to customize a paintball mask?
Well, here's why. Paintball is played in many different fields. There's also different versions, for instance, speedball and woodsball. So you can customize for each game and for where you're playing.
Field of view is another aspect of design when you're looking at the best paintball masks. If your view is obstructed by badly designed goggles then the games not worth playing. But with the Ascend that's not something you need to worry about. It comes with dual-pane anti-fog and 100% UV protection thermal lens. 
For such a decent price, you really get a lot for your money. Another feature that's so important when you're playing this game is being able to breathe easily when you're running around. A badly designed face mask is going to leave you out of breath. 
The Ascend provides Maximum airflow and ventilation. Not just helping your breathing, but makes communication a lot easier too.
PROS
Creative Design Style
Fog resistant
100% UV protection
Great field of vision
Maximum airflow
Good communication allowed
Mid-range price
Interchangeable Parts
CONS
No ear pads
Color choices limited
5. Empire X-Ray V2.1 Thermal PROtector Goggle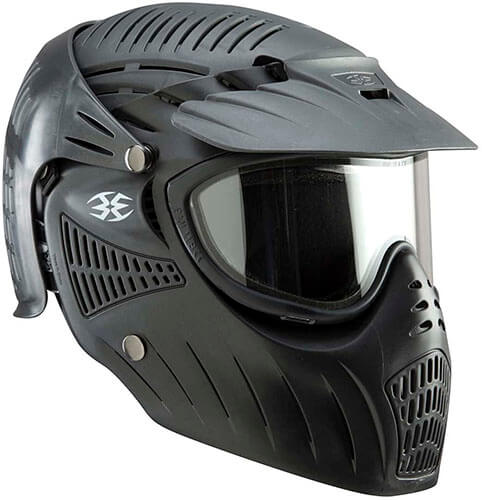 Best Kids Paintball Mask
The Empire X-Ray offers brilliant 360 degrees protection, looks a really cool paintball mask and the anti-glare lens doesn't fog up.
 If you have a big head this paintball mask is a good fit. It won't put pressure on your nose or ears. Will withstand shots to the head, you will hardly feel them. Side protection is pretty decent as well. Can be a little high on the back of the head if you do have a large-sized head.
The visor is removable, but even in gameplay sits securely. If you're playing a night game or happen to be in very poor light you might want to take the visor out, it does create shadows, in bad light situations.
A good field of vision with the helmet. You won't be able to wear glasses underneath the helmet, so if they are a necessity don't buy the Empire X-Ray.
PROS
Good field of vision
Great all-round protection
Visor is removable
Fits bigger heads
No Fogging
Anti-glare lens
CONS
Visor casts shadows in night play
Back of neck exposed for bigger heads
Foam around the goggles a little hard
6. NINAT Tactical Paintball Mask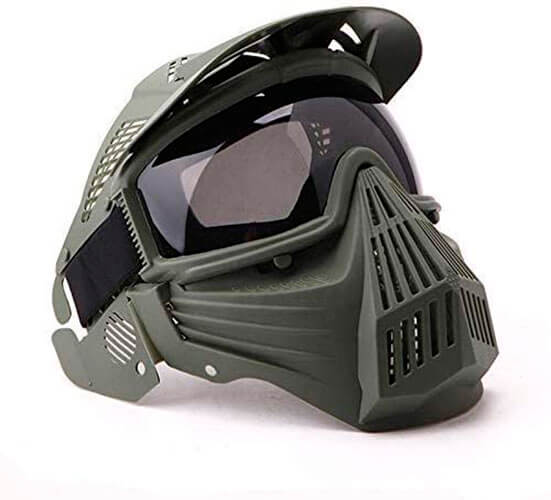 Best Cheap Paintball Mask
The Ninat is a well made full face mask and you will look great in such a cool paintball mask. It's available in four colors, grey, black, green and tan. 
Made from a polycarbonate material and a TPU plastic composite for resistance to impacts. With an elastic head strap to fit different size heads. There's cushioning around the eyes and ears for an even more snug and comfortable fit. Buffers on the forehead (around the eyes) and ears.
To aid in breathing there are louvred vents capable of allowing warm air to escape while drawing in fresh cool air to breathe.
The lens will withstand an airsoft shooting fired at over 300 FPS (feet per second) from a distance of only 5 meters. Please note that's not a paintball fired at that range and speed.
PROS
Impact-resistant polycarbonate
Louvered vents for breathing
Four different colors
Good for the price paid
Doesn't fog
CONS
Chin area is not so protected
Plastic a little flimsy in areas
7. JT Premise Headshield Paintball Goggle
Best Budget Paintball Mask
If you're a beginner paintball player then it's only natural you're going to take a lot more hits. This includes hits to the head. So it makes sense to get some good all-round protection for the back of head, face and ears.
Full protection doesn't come cheap, at least quality doesn't. That's where the JT Premise Headshiels helps you out. For this price point, you get enough quality and protection, to keep you enjoying the game.
First, the Premise is made from softer and more pliable plastic. Meaning it's more comfortable to wear and when you do get hit the helmet absorbs them much easier.
The top and back shield can be removed if you need or want to. Sometimes on really hot days you just don't need so much heat around your head. And it makes for easy cleaning.
When you're in the game it has an excellent 260-degree field of vision and doesn't fog easily. If you feel like swapping lens you can with their Pro-change lens and foam quick-release System. This doesn't require tools so you can swap lens mid-game if you want. 
Another great plus for this helmet is for people that need glasses. Nothing worse than getting into a paintball game without glasses when you really need them. These paintball masks are glasses compatible.
PROS
Can easily disassemble for cleaning
Tool-free lens changes
Good price point
Elastic straps for size adjustment
Glasses compatible
260-degree field of vision
Built-in visor
Soft face foam
Adjustable chin strap
Panels give full head protection
CONS
Can get hot inside the helmet
8. V-FORCE Grill Paintball Mask / Goggle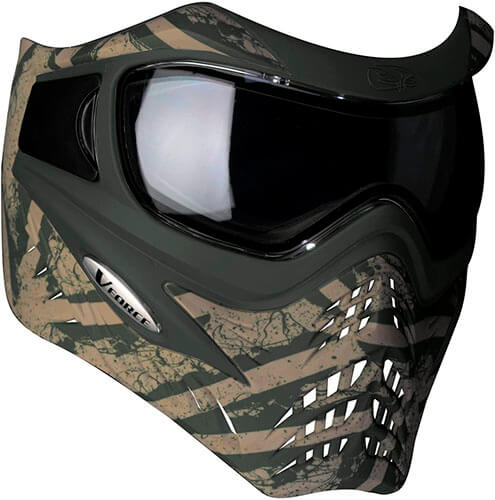 Best Badass Paintball Mask
If you want a badass paintball mask, then the V-Force Special Edition is the one you should choose.
It's one of the coolest looking paintball face masks out there. Guaranteed to have your friends and family buying one after they see yours.
The V-Force is not just a great looking mask. It has an ultra light-weight design. You'll be touching your head constantly to make sure you're still wearing your helmet.
The temple area is well protected as well, but the comfort pads can be removed if you need more room.
The mask has a built-in forehead deflector, this helps bounce hits away that come near the eyes and forehead.
There's a quick change foam system. Getting hot and sweaty is part of paintball but that can make the mask move around too much, with the V-Force not a problem. Just switch out the foam for fresh. 
Sleek Spherical Lenses can easily be changed to a new set. The mask's mean and sleek look is not just for show, the ultra low profile design will reduce the target zone, making it harder for your opponents to hit you.
PROS
Foam swap system
Thermo cured lens
Sleek spherical lenses
Low profile design
Anti-fog lenses
Anti-scratch lenses
Different color lens tints
Full-flex pro grill
CONS
Factors to Consider When Buying a Paintball Mask
As you know, the sport of paintball involves evading getting hit. However, when paintballs are flying directly at you at 200 mph, getting out of the way is all but impossible. That's why you need a great paintball mask!
Since you can't trust your dome in the hands of any old paintball helmet, you need to consider a few key factors in order to find the best one for you. Some of these factors include: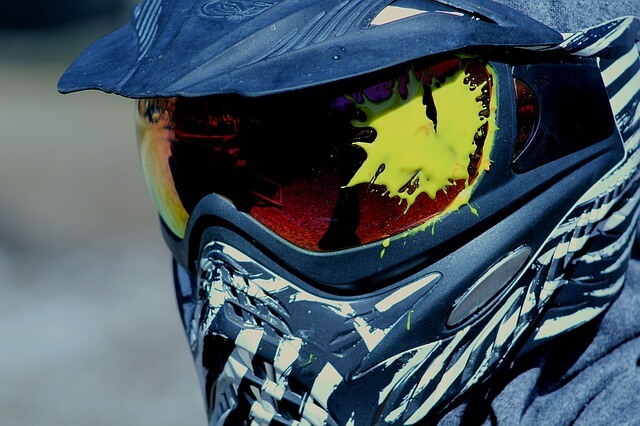 The first and most obvious point to keep in mind when shopping for a paintball helmet is your budget. Paintball is an extremely fun sport, but it can also be an expensive one.
Since paintball masks are available in a wide-variety of price ranges, try to pick a price point and stick to it. Doing so will allow you to actually buy some paintballs and have some fun.
Style of Paintball You Play
Next, it's important to consider the style of paintball you play or plan on playing. Not all paintball masks are designed for every type or style of play. Since comfort is crucial in order to truly enjoy the sport, a certain mask may be more comfortable and better suited for the type of paintball you like to play.
For example, if you like to get knee deep in the woods for hours on end playing woodsball, you'll want a mask with plenty of ventilation and room to breathe. You don't really need to worry about getting a low-profile mask like you do in speedball or CQB.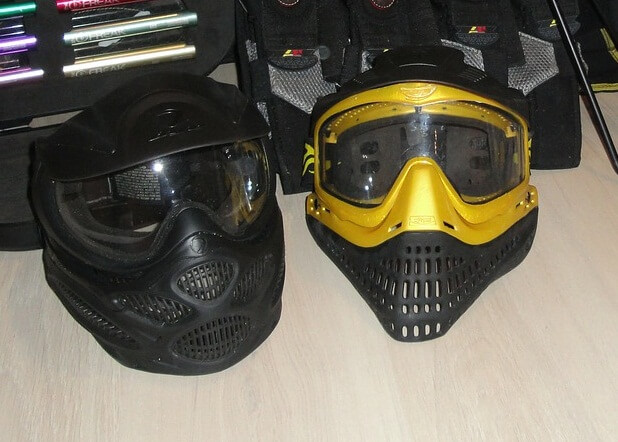 Lastly but most importantly, you need to think about fit. Not all heads are alike. Some are larger than others. Some are round and some are egg-shaped. Therefore, you need to pick out a helmet that will be a good fit for your specific head.
Fortunately, many quality paintball masks, such as the ones in this guide, are made to fit well on a variety of head shapes and sizes. Nonetheless, it's important to keep fit in mind and stay away from any helmets that are better suited for smaller heads if you have a larger head, and vice versa.
Seeing is everything in paintball. After all, you can't hit what you can't see. However, lens quality often differs drastically from one paintball mask to the next.
Therefore, you need to pay special attention to lens quality when reading paintball mask reviews and try to choose a model with a wide field of view and an anti-fog and anti-scratch lens if your budget allows. As you can see from the reviews above, however, you don't need to shell out big bucks for a mask with a great lens.
Where to Buy the Best Paintball Mask
Not long ago, you had to go down to your local paintball store (if you had one in your town) in order to buy a paintball mask. If you're looking for a paintball mask for sale today, however, you can purchase one from the comfort of your couch.
Although there are several brick and mortar stores selling cheap paintball masks and other paintball gear these days, the best deals are often found online from manufacturer websites and Amazon, which has hundreds of differrent paintball masks for sale at deeply discounted prices.
With the click of a button, you can have a brand spanking new premium or cheap paintball mask of your choice arrive right to your door, regardless of where you live. Don't you just love technology!
Making the Decision
Choosing the best paintball mask for yourself is an important part of the game. While headshots aren't meant to happen, they do, and frequently. Without the right gear, it's dangerous. Any blow to the head is not good. In fact, most paintball fields won't allow gameplay without correct protective facemasks.
But more than safety you need a helmet, that's comfortable, good field of vision, quality lens (anti-fog), great ventilation, ear protection, the list goes on, and don't forget you want a cool-looking paintball mask. 
If you don't buy one you must rent one, and that means suffering through a fogged lens, a helmet that makes your head sore and gives you a stiff neck. Of course, it's your choice, but we know which one we recommend.