In the action-packed world of paintball, performance is king. Your gun and gear must be the very best in order to win. So, picking the best hopper, or loader as they're also called, is vital to achieving paintball supremacy. Unfortunately, choosing the best paintball hopper for you and your gun is easier said than done. Well, at least it was until you landed here.
This comprehensive guide and the unbiased paintball hopper reviews below will have you firing away at 20+ BPS and taking names in no time at all. Whether you're looking for an awesome old school mechanical paintball hopper with a proven track record or a cutting-edge electronic paintball hopper with all of the bells and whistles, we'll point you in the right direction.
Okay, okay, enough with the small talk. Let's jump right in and get you geared up right!
Our Top Recommended Paintball Hoppers
What is a Paintball Hopper?
A paintball hopper or paintball loader is an external device that attaches to a paintball gun and allows you to fire off hundreds of paintballs before needing to reload. While they usually all look alike to an untrained eye, there are distinct differences between different paintball models.
That being said, there are only two real types of paintball hoppers: electronic and gravity fed. Gravity fed hoppers are lightweight, simple, and inexpensive. They're basically just containers with chutes for paintballs to travel down and drop into gun feed necks. As you could imagine, however, they feed paintballs much slower than electronic models and are known to jam much more often. Although some gravity hoppers are designed to minimize jamming, they may still need a good shake from time to time.
Electronic paintball hoppers, on the other hand, have motors that drive internal parts to help speed up the feeding process and prevent jamming. A quality electronic hopper will allow you to shoot up to 20 BPS or more without chopping paint.
To prevent jamming, some models have agitating paddles to move the paintballs around and minimize stoppages. Others have a force feed design and actually push paintballs into the paintball gun for the highest possible rate of fire. Although these are heavier and a little more expensive, they're the best paintball hoppers and some can feed up to 30 or more paintballs per second. Talk about performance!
Best Paintball Hopper Reviews
1
Empire Halo Too Paintball Loader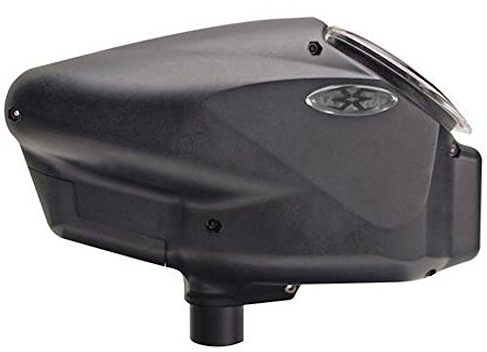 The Empire Halo Too is hands down the best paintball hopper for your money on the market today. Costing less than half of what some of the other top models go for but packing some serious punch in the performance department, the Halo Too Hopper has earned tons of positive paintball hopper reviews and a loyal fan base just like the Invert Mini GS. So, it's only fitting that it earned the top spot on this list as well.
With a super-quiet electric belt drive capable of forcing over 20 paintballs a second down your feed neck and at your opponent, plus a top-notch Freeway Anti-Jam System to keep it from jamming up at critical moments, it's easy to see why so many players put their trust in this Empire hopper.
Honestly, the standout features on the Halo Hopper are almost too many to list. Nonetheless, the specs below will shed some more insight into everything this first-class hopper has to offer.
Specifications
Electronic paintball hopper
Polycarbonate shell
Matte black finish
Freeway Anti-Jam System
Programmable onboard computer
Sound activated
Six speeds and sensitivity modes
Feed stack sensor
Low battery indicator
AA or 9-volt battery operation
Feeds up to 24 BPS
Paintball capacity – 180
PROS:
Jam-resistant
Very well-made
Affordably priced
Feeds paintballs fast
Low-profile
Can run on a 9-volt battery or AAs
CONS
Can be difficult to program
2
Dye Precision Rotor Paintball Loader
There are quite a few electronic hopper options available these days to cater to the growing demand for speed, speed, and more speed. However, like the Empire Halo Too, very few match the performance of the Dye Precision Rotor Paintball Loader.
This top-of-the-line Dye hopper is used by tournament players everywhere and has a stellar reputation for its superfast feeding and solid design. In addition to being able to shoot a whopping 30+ BPS, the Dye Rotor Hopper is built like a tank, has a tool-less disassembly, and comes equipped with a super functional anti-jam mechanism.
In other words, it's one heck of a paintball gun hopper any serious player can appreciate.
Specifications
Electronic paintball gun hopper
Patented Rotor Force Fed Technology
Adjustable torque feature
Sharkfin Jam Release Trigger
Water-resistant circuit board
Runs on three AA batteries
Indicator LED
Black Ops stealth feature
30+ BPS feed rate
Paintball capacity – 200
PROS:
Incredibly well-made
Awesome feed rate
Flawless performance
Great anti-jam mechanism
Black Ops stealth function is a must for night matches
Great reputation
CONS
A little pricier than some models
3
Virtue Spire 200 Electronic Paintball Hopper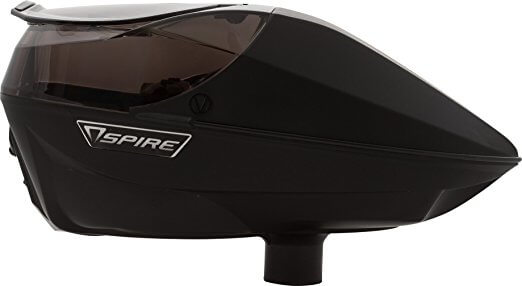 The Virtue Spire 200 Electronic Paintball Hopper is one of the latest and greatest best paintball loaders to hit the market. The next generation electric hopper features a lightweight design and an array of innovative features that make it arguably the best hopper for paintball on the planet.
In addition to holding more paint in spite of its aggressive and compact design, the Virtue Spire 200 has an open loading area, jam-proof feed system, shot-activated sensor, and a tool-less disassembly putting right up there with some of the best in the business.
With several other great features and a boatload of color and style options to choose from, it's belongs at or near the top of any "Best Hopper for paintball" list. If your budget allows and you take your paintball seriously, then you should seriously consider the Virtue Spire 200. Good paintball hoppers are a dime a dozen, but a great hoppers like this Spire are a rare breed definitely worth checking out.
Specifications
Electronic paintball hopper
Self-optimizing motor
Spring-loaded anti-jam drive
Quick change speed feed system
Tool-less assembly and disassembly
Shot-activated G-Force Sensor technology
Rubber flex cycle paddle
Water-resistant electronics
Electronic force feed button
LED controls
Runs on three AA batteries
Paintball capacity – 200
PROS:
World-class design and performance
Multitude of colors and styles to choose from
Rarely jams
Easy to use
Tool-less disassembly
Works like a champ
CONS
A little pricey
Could be easier to load
4
Pinokio PL230/400 Hopper
The Pinokio PL230/400 Hopper is definitely one of the more unconventional paintball hoppers out there, but its optional nose cone allows you to add an additional 140 paintballs and enjoy precious added minutes of action without the need for a reload.
Unlike other hoppers paintball, this Pinokio hopper holds well in excess of 200 rounds even without the cone. As if that weren't enough, the mad scientists at Pinokio also enabled the PL230/400 to feed paintballs at over 30 BPS. It's also one of the lightest electric paintball hopper options out there and comes equipped with volumizer attachment for optimal performance in both woodsball and speedball tourneys.
On the downside, the Pinokio PL230/400 is one of the taller hoppers you'll run across. However, with everything it offers, most players tend to overlook its higher profile.
Specifications
Electronic paintball hopper
Oversized feed neck
Volumizer attachment
Optional nose cone
30+ BPS feed rate
Runs on two 9-volt batteries
Paintball capacity – over 300 with optional nose cone
PROS:
Extra-large capacity
Super high feed rate
Spring lid makes for easy reloading
Easy to disassemble and clean
Very reliable
Rarely jams
CONS
Large profile tends to block view
5
Tippmann Cyclone Feeder System
Tippmann is one of the biggest and best paintball gun and gear brands, and there's no better hopper out there for Tippmann guns than the Tippmann Cyclone Feeder System.
Designed to work exclusively with Tippmann Custom Pro, Custom 98, Project Salvo, and Alpha Black paintball guns, it's without a doubt the best paintball hopper for any Tippmann fan. With hundreds of rave paintball hopper reviews, there's a lot of players out there with Tippman guns who have definitely benefitted from this cutting-edge and completely unique paintball feeder system.
What makes the Tippmann Cyclone Feeder System so special? Well, for one it's designed to sync the feeder sprocket with the air system, resulting in reduced jamming and paintball breakage. To do this, it uses air from your paintball gun to spin the internals of the hopper during each and every shot. Pretty ingenious, right?
While its design and anti-jamming properties are out of this world, the Tippmann Cyclone only has a feed rate of 15 BPS, so it's not ideal for speedball. That being said, it definitely has what it takes to make you the king of the woods.
Specifications
Paintball feed system w/hopper
Air-assisted loader system
Direct-link feeder sprocket
15 BPS rate of fire
200-capacity hopper included
Compatible with most Tippman paintball gun models
PROS:
Unique pneumatic design
Doesn't run on batteries
Feeds balls perfectly for minimal jamming and breakage
Neat low-profile design
Very easy to install
Looks cool
CONS
Only compatible with Tippman guns
Lower BPS
6
Proto Primo Paintball Hopper
Also featuring a non-battery powered design, the Proto Primo Paintball Hopper is great for players who want to save some money and not hassle with charging or putting in batteries. Since it's gravity fed, the Proto Primo Hopper isn't the best paintball loader in the world.
However, if you don't own a Tippman and you're not into electric paintball hoppers, it's definitely the best choice.
Although the Proto Primo won't allow you to fire off shots at 30 or even 20 BPS, you won't have to worry about jams and spend half your time shaking your gun like you would with other traditional paintball hoppers. Designed to relieve pressure and reduce gun agitation, it sorts and funnels beautifully to provide a consistent vertical feed.
It also has an awesome spring lid and large opening that makes reloading a breeze. When you add it all up and consider the Proto Primo's laughably low price tag, it's easily one of the best deals around.
Specifications
Gravity fed paintball hopper
Positive shelf design
Clear spring-loaded lid
13+ BPS feed rate
Paintball capacity – 200
PROS:
Very inexpensive
Super lightweight
Works as advertised
Sleek, compact design
7
Tippmann SSL-200 Electronic Hopper
The Tippman SSL-200 Electronic Hopper is an excellent choice for woodsball and entry-level players. While this 200-capacity Tippman hopper paintball isn't the fastest electric hopper on the market, it's quieter than average, holds a decent amount of paint, and can take a serious beating.
The Tippman SSL-200 is also surprisingly lightweight and comes equipped with Bend Sensor Technology, which allows it to consistently feed paintballs at 15 BPS. The dynamic sensor also helps improve efficiency and extend much needed battery life. With an LED low battery indicator, adjustable O-ring neck, wide-mouth snap-fit lid, and low-profile design as well, it gets the job done and gets it done well.
When all is said and done, the Tippmann SSL-200 isn't the best hopper ever made, but it works like a champ and provides some serious bang for the buck.
Specifications
Electronic paintball hopper
Low-profile deign
Bend Sensor Technology
Adjustable O-ring neck
Wide-mouth snap-fit lid
LED low battery indicator
15 BPS feed rate
Paintball capacity – 200
PROS:
Affordably priced
Quiet operation
Easy to load
Works as advertised
8
G.I. Sportz Pulse RDR Paintball Loader
If you're a professional paintball player or simply love the sport and want the absolute best paintball hopper being made today, the G.I. Sportz Pulse RDR Paintball Loader has your name all over it.
This state-of-the-art paintball hopper is loaded with features designed to take your performance to the next level. One such feature is the radar chronograph. Incorporated into the nose of the cone, it allows you to measure your FPS and BPS whenever you want!
With a modern OLED screen, wireless push-button electronics, push-button disassembly, and a durable over-molded shell as well, there's no hopper out there capable of competing with the Pulse RDR. It really is that good.
Although it's new to the market and isn't mentioned in many paintball hopper reviews, it's THE hopper to get if you have a healthy budget and love of the sport.
Specifications
Electronic paintball hopper
Over-molded shell
Patented removable tray
Patent-pending RDR technology
Radar chronograph measures BPS and FPS
OLED display
Push-button controls and disassembly
PROS:
State-of-the-art technology
Feeds incredibly fast
Displays both BPS and FPS
Super easy to disassemble and clean
None other like it
CONS
Expensive
A little heavy
Low battery efficiency
There's a lot to like about the Virtue Spire 260 Hopper, but its huge paintball capacity is what really makes it stand out in the crowd. With the ability to effortlessly hold up to 260 paintballs, it allows players to get off an extra 60 shots between reloads. So, while your competitors are busy reloading, you can be picking them off one by one!
Aside from its impressive capacity, the Spire 260 has a number of other great features as w ll. With its jam-free feeding system, compact tool-free design, shot activated sensor, and vertically stacked air box, it's one of the most user-friendly, high-performance hoppers available.
Although it doesn't feed quite as fast as a rotor hopper, it manages to provide an impressive BPS as well, making it an excellent overall option for any serious baller.
Specifications
Electronic paintball hopper
Speed feeder
Jam-proof technology
Shot-activated sensor
Tool-free disassembly
LED cover
Runs on three AA batteries
Paintball capacity – 260
PROS:
Impressive paintball capacity
Smooth, jam-proof performance
Excellent overall design
28 different color and style options to choose from
10
Empire Z2 Prophecy Hopper
The Empire Z2 Prophecy Hopper is another top-performing loader option worthy of a spot in any player's gear bag. A noticeable step up from the already impressive Prophecy, the Z2 Prophecy offers sound-activated force feed technology for fast and effortless feeding time after time. As one would expect from an Empire, it also features infrared sensors to prevent untimely jams in the heat of battle.
To top it all off, the cutting-edge Z2 is designed to continually monitor its rate of fire and drive force for the best possible performance at all times. In the single blink of an eye, it performs more sensor readings than any other paintball hopper ever made.
Made of super strong and durable reinforced composites and featuring a lightweight, low-profile design as well, the Empire Z2 Prophecy is one of if not the top paintball hopper around. If you're reading these paintball hopper reviews hoping to find a world-class hopper at a reasonable price, look no further than this Empire. It won't disappoint!
Specifications
Electronic paintball hopper
Reinforced composite construction
Low-profile design
Infrared sensors
Anti-jamming mechanism
Continuous drive force and rate of fire monitoring
Magnetic lid
Runs on a 9-volt battery or four AAs
20+ BPS firing rate
Paintball capacity – 200
PROS:
Very fast and responsive
Hardly ever jams
Provides consistent feeding performance
Easy to use, disassemble, and clean
Great for all types and styles of play
CONS
Can't really think of any
Points to Consider When Purchasing a Paintball Hopper
From inexpensive gravity hoppers with slower BPS but greater capacity to sleek and sophisticated electronic models with faster feed speeds and features galore, saying there's a wide-variety of paintball hoppers out there to choose from would be an understatement. With so many options, how do you know which one to choose?
If you didn't find a clear cut winner in the reviews above, considering the following factors will definitely help you make up your mind on the right paintball hopper for you.
The capacity of a paintball hopper is simply the number of paintballs it can hold when filled to the max. Capacity is important to consider regardless of your style of play, but it's especially important for speedball and field players. Most quality paintball hoppers have a maximum capacity of 200. However, some models have the ability to hold even more.
Whether you find yourself knee deep in the muddy woods, combating dust in the desert, or on a field with paintballs zooming at you from all directions, the reliability of your hopper will be crucial for your success. Unfortunately, even basic gravity fed paintball hoppers can be unreliable at times.
Therefore, electronic hoppers that force 20 balls a second through your gun are bound to malfunction even more. Nonetheless, some paintball guns are more reliable than others. So, if you want to spend more time shooting your paintball gun and less time shaking it, make sure to choose a model with proven reliability and anti-jamming technology.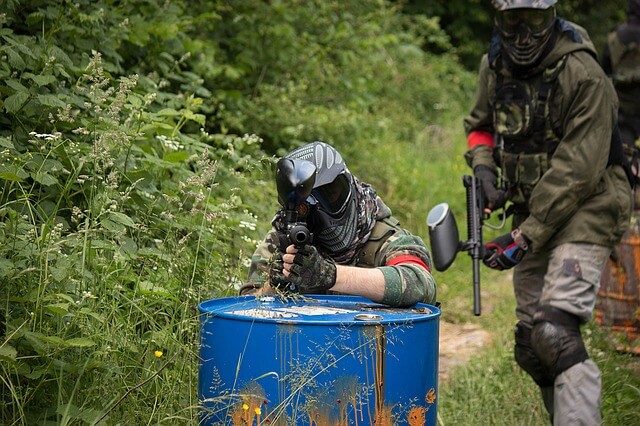 Maintenance is also really important with paintball hoppers. They must be kept clean, paint-free, and charged up in order to avoid jamming and feed properly. As you can see from the reviews above, many of the best hoppers are designed for quick and easy tool-free assembly and disassembly, which makes cleaning and maintenance a breeze.
Every electronic hopper relies on some sort of system to feed paint down its feed neck and into a paintball gun. Some electronic hoppers are more reliant on gravity, while others like the Dye Rotor force paint through more aggressively.
Although the internal parts of electronic hoppers are designed to withstand being dropped and shot, they're obviously more sensitive than simple gravity fed hoppers with little to no internal parts. The durability of an electronic paintball hopper basically boils down to how well it protects these parts.
By considering these factors and a few more such as your budget and style of play, you're guaranteed to find a great hopper that will serve you well for days, months, and even years to come.
Making the Decision
Paintball is a thrilling, action packed sport that requires a solid gun and an even better hopper. If you've made it this far, then you know full well just how important a paintball hopper is for your performance on the field, in the woods, or in any environment.
You also know all about the ten best paintball hopper options on the market today. All you have to do is decide on the right one for you, click the buy button, and get ready to crush the competition with your smooth, rapid-fire performance.
If you're still not sure, go ahead and read the paintball hopper reviews above one more time. Don't take too long, however, because your competition is likely upgrading their hoppers and gear right now as we speak!