In the action-packed world of paintball, performance is king. Your gun and gear must be the very best in order to win. So, picking the best hopper, or loader as they're also called, is vital to achieving paintball supremacy. Unfortunately, choosing the best paintball hopper for you and your gun is easier said than done. Well, at least it was until you landed here.
This comprehensive guide and the unbiased paintball hopper reviews below will have you firing away at 20+ BPS and taking names in no time at all. Whether you're looking for an awesome old school mechanical paintball hopper with a proven track record or a cutting-edge electronic paintball hopper with all of the bells and whistles, we'll point you in the right direction.
Okay, okay, enough with the small talk. Let's jump right in and get you geared up right!
Our Top Recommended Paintball Hoppers
What is a Paintball Hopper?
A paintball hopper or paintball loader is an external device that attaches to a paintball gun and allows you to fire off hundreds of paintballs before needing to reload. While they usually all look alike to an untrained eye, there are distinct differences between different paintball models.
That being said, there are only two real types of paintball hoppers: electronic and gravity fed. Gravity fed hoppers are lightweight, simple, and inexpensive. They're basically just containers with chutes for paintballs to travel down and drop into gun feed necks. As you could imagine, however, they feed paintballs much slower than electronic models and are known to jam much more often. Although some gravity hoppers are designed to minimize jamming, they may still need a good shake from time to time.
Electronic paintball hoppers, on the other hand, have motors that drive internal parts to help speed up the feeding process and prevent jamming. A quality electronic hopper will allow you to shoot up to 20 BPS or more without chopping paint.
To prevent jamming, some models have agitating paddles to move the paintballs around and minimize stoppages. Others have a force feed design and actually push paintballs into the paintball gun for the highest possible rate of fire. Although these are heavier and a little more expensive, they're the best paintball hoppers and some can feed up to 30 or more paintballs per second. Talk about performance!
Best Paintball Hopper Reviews
Dye LT-R Electronic Paintball Loader – Best Choice Paintball Hopper
The Dye LT-R is our choice of best paintball hopper for your money in 2020 because it combines amazing technology with a price point you can't match with any other paintball hopper.
The technology built into this hopper combines high levels of functionality, reliability and superb speed rates. Everything a player is looking for, making this the best choice hopper.  
For example, feed rates of over 30 balls per second. Ally that, to an 80,000 shot count from one set of 3AA batteries, makes it a candidate for best paintball loader in the world, at this price point.
There's no doubt this hopper will handle any paint or conditions thrown at it, and is fast becoming the best paintball hopper for your money.
Although it's force-fed, the Dye LT-R is very gentle on paint, even on brittle paint in cold temperatures. This is a tremendous bonus, so many electric hoppers chop paint when it gets cold.
The Dye LT-R is a gem to maintain as well. Slide the locking tab and a single push of the button opens the hopper for cleaning and maintenance. Also, the LT-R offers toolless assembly and disassembly.
The hopper has a special black ops feature allowing you to turn the indicator LED off, great if you need to stay dark during low light or night games.
All medium to excellent players will find this hopper loads paintballs rapidly enough to never limit your gameplay. At the same time, we have to say, we think it's the best electronic for beginners.
Any player that feels he wants to move up from a gravity-fed hopper this is a brilliant choice, easy maintenance, uncomplicated and built by people who play paintball, make this a world-class hopper at a reasonable price.
Specifications
 Dimensions: 8.5 x 5.5 x 4.5 inches

 Weight: 1.05lbs

 Capacity: 200 paintballs

 Feed rate 30 BPS

 Weight: 1.05lb

 Width: 4.25″

 Length: 8.5″

 Height: 5.5″

 Tool Less Disassembly

 Anti-Jam Trigger

 80,000 shots on one set of 3AA batteries
PROS:
Functionality, reliability and speed rates

 The LT-R has a variety of upgrades such as color kits, quick feeds, and high-capacity tops

 Water-resistant so gameplay continues in the rain and is no hindrance

 Ease of assembly and disassembly for maintenance and cleaning

 The price point is unmatched for the quality of this hopper

 High standards of battery efficiency

 No major issues with balls breaking
CONS
 No low capacity warning

 Can feel a little heavy
Dye R2 Electronic Paintball Loader – Best Electronic Paintball Hopper
The Dye R2 electronic paintball loader is a well-built hopper offering great loading speeds with a capacity to match. The hopper is vying for the title of best paintball loader in the world. With a world's first adjustable capacity loader.
Incorporating a multi-capacity shell, allowing users to choose either 200 or 260 paintballs, without needing to add anything to the shell.
If you have a high-quality marker, then you won't go wrong with this hopper, because it's capable of feeding 30 balls per second and at least 100,000 shots on one set of 3AA batteries.
For in-play, the extra-wide mouth allows you to reload without taking your eyes off the game. And another world's first in their reload alert system and low-battery indicator. Never run out of balls or battery power at a crucial stage in the game, again.
In case of a jam during gameplay, the shark fin jam trigger will get you back in the game in no time. All-round it's one of the best hoppers for paintballs you will find.
Specifications
Dimensions: 11 x 6 x 5 inches

 Weight: 2 Pounds

 Adjustable capacity loader

 Paintball capacity 200 or 260

 Feeds 30+ BPS

 100,000 shots with 3AA Batteries

 Low Battery Indicator

 Reload alert system

 Shark fin jam release trigger
PROS:
Many design colors, including tiger stripe, to match your marker

 Switching from 200 to 260 capacity in literally one second

 The shark fin fitted on the bottom of the hopper makes jamming a thing of the past

 Quick feed top opens all the way for super-fast loading

 Lightweight construction makes it easy to carry without tiring

 Solid piece of equipment that will take hits without flinching
CONS
A little difficult to strip down in the field

 The alert sound for low ammo can disconcert when in the middle of a game
Empire 2017 Halo Too Paintball Loader – Best Cheap Electronic Paintball Hopper
If you're just moving up to electric hoppers, then this is the one for you to try. Less than half the price of comparable models. Simple to use, providing loads of fun and just as important, affordable.
Made from matte black polycarbonate material, it will shrug off direct hits and can you can load up with 180 paintballs. A silent running belt drive will force-feed 20 balls per second.
When you come to use the Halo Too in the field, you'll find it's simple to program and the batteries will last all day. You won't be able to field strip it,  though that shouldn't cause you too many problems.
The Empire Halo Too has the Freeway anti-jam mechanism installed. 
The all-round capabilities of the Halo Too, in our opinion, makes this best cheap electronic paintball hopper on the market today. 
Specifications
Dimensions: 11.46 x 8.35 x 4.45 inches

 Weight: 1.37 Pounds

 Polycarbonate shell

 Matte black

 Feed rate 20+ BPS

 180 paintball load capacity

 Dimensions: 11.46 x 8.35 x 4.45 inches

Freeway anti-jam mechanism

 Low battery indicator

 Requires 4AA batteries
PROS:
Very simple to operate. Ideal for taking that step up to an electric loader

 Low-risk jam mechanism

 Will fire paintballs accurately and continuously, thanks to its ultra-quiet belt drive

 Polycarbonate shell will withstand any hit
CONS
Force feed is on the slow side for electric loaders, at 20 BPS
Virtue Spire IV Electronic Paintball Loaders – Best High-Performance Paintball Hopper
The Spire IV is a first-class electronic paintball loader. It's extremely low-profile, lightweight and now fitted with Intelligent Proactive Feeding you can count on its consistency and reliability more than ever before.
 The hinged shell technology makes cleaning and changing batteries a snap. The Spire IV is now a single hinge-mounted unit. One button allows single-hand access via a glass-filled nylon hinge.
Intelligent proactive feed technology ensures that you have a constant feed from the first shot you fire.
If you prefer to use a speed feed, you can replace the Spire IV lid with your choice of speed feed in seconds.
Another superb feature of the Spire IV is the ability to feed very fragile paint. They fit the hopper with rubber fingers that gently feed brittle paint to prevent it splitting open.
A tremendous top of the range electronic paintball loader for serious players and helping the Spire IV become the best fastest paintball hopper being made today.
Specifications
Dimensions: 10.1 x 6.1 x 4.9 inches

 Weight: 2 Pounds

 Dual LED Reload indicator

 Proactive feeding logic

 Wireless programming

 Toolless tray disassembly for easy cleaning

 Upgraded cosmetics
PROS:
Has a large capacity of 220 paintballs

 Easy tool-less disassembly

 The Spire IV begins feeding the instant the first shot is fired (Proactive Logic)

 Reload indicator with H.U. LEDs + Alarm

 Feeds brittle paint easily

 Fast and consistent feeding
CONS
The stock lid is fragile can break easily in gameplay, if not handled with care
Tippmann Cyclone Feeder System – The Best Cyclone Feed System Paintball Hopper
Tippmann is one of the biggest and best paintball gun and gear brands, and there's no better hopper out there for Tippmann guns than the Tippmann Cyclone Feeder System.
Designed to work exclusively with Tippmann Custom Pro, Custom 98, Project Salvo, and Alpha Black paintball guns, it's without a doubt the best paintball hopper for any Tippmann fan. With hundreds of rave paintball hopper reviews, there's a lot of players out there with Tippman guns who have definitely benefitted from this cutting-edge and completely unique paintball feeder system.
What makes the Tippmann Cyclone Feeder System so special? Well, for one it's designed to sync the feeder sprocket with the air system, resulting in reduced jamming and paintball breakage. To do this, it uses air from your paintball gun to spin the internals of the hopper during each and every shot. Pretty ingenious, right?
While its design and anti-jamming properties are out of this world, the Tippmann Cyclone only has a feed rate of 15 BPS, so it's not ideal for speedball. That being said, it definitely has what it takes to make you the king of the woods.
Specifications
Paintball feed system w/hopper
Air-assisted loader system
Direct-link feeder sprocket
15 BPS rate of fire
200-capacity hopper included
Compatible with most Tippman paintball gun models
PROS:
Unique pneumatic design
Doesn't run on batteries
Feeds balls perfectly for minimal jamming and breakage
Neat low-profile design
Very easy to install
Looks cool
CONS
Only compatible with Tippman guns
Lower BPS
Empire Paintball 200 Round Loader – Best Beginner Paintball Hopper
The Empire Paintball Loader is one of the best cheap paintball hoppers available. We also believe this Empire is the best gravity-fed paintball hopper. It's perfect for beginners just getting into the sport. The Empire will hold up to 200 rounds.
The loader does its job and is very sturdy, will handle some hard knocks and falls. It's a pretty basic piece of equipment, no internal design or any shelving. But just what you would expect from this price range.
If you're only a casual player, then you won't go far wrong with the loader. And if you break it, then the cost doesn't make it to big a deal to replace for a new one.
If you're a more serious player, this might make a useful back-up if your rotor one messes up in the middle of a game. This is our choice for best beginner paintball gun loader.
Specifications
Dimensions:

10 x 5 x 1.02 inches

Weight: 1.45 Ounces

 Holds up to 200 paintballs

 Durable, made of tough polymers

 Gravity-fed paintball hopper
PROS:
 It's a good price point and a good hopper for beginners to get into the sport. Excellent for semi-automatic markers

 The cap is spring-loaded, makes refilling for easy to handle

 Durable enough for woodsball play

 Easy to see how many paintballs are left during gameplay
CONS
Not a great hopper for if you're hoping for rapid-fire capabilities

 Not suitable for above-average players

 The lid sealing the hopper can be awkward to close in gameplay
Maddog 200 Round Paintball Hopper Loader – Best Cheap Paintball Hopper
If you're in the market for cheap paintball hoppers, then you won't go far wrong with the Maddog 200 round paintball hopper loader. And a tremendous choice of name for a paintball hopper.
You won't need batteries because the hopper is gravity-fed. But it still holds up to 200 paintballs and is suitable for any standard paintball marker.
The Maddog is one of the best hoppers for paintball players if you're a casual player or looking for a cheap replacement for an in-game switch when your electronic hopper glitches out.
Specifications
Dimensions: 10.98 x 7.6 x 4.57 inches

 Weight: 5.01 Ounces

 Holds up to 200 paintballs (.68 calibre)

 Split shell construction

 Gravity-fed loader

 Matte black

 Spring-loaded flip-top
PROS:
The hopper is very easy to clean and completely disassembles to reach all internal parts

 Does not run on batteries

 The spring-loaded clip makes it simple to reload quickly

 Fits on all standard paintball markers

 Very cheap for the build quality and functions

 Sturdy stands up well to some harsh treatment

 Good hopper for a beginner or casual player
CONS
Doesn't perform very well with semi/automatic paintball markers
GOG Multi .50 & .68 Caliber Loader – Best Small Paintball Hopper
A good solid build, holding around 80 rounds of .68 caliber balls and has a feed rate of 10 BPS which isn't too shabby for a gravity-fed hopper.
If you are a pump player, then this might suit you because of its load capacity. Usually, pump players like to use hoppers with a capacity of about 50 rounds, so this gives you over 50% more. 
The hopper comes set up for the .50 cal balls, but it's a simple matter of opening it up with a screwdriver and removing the neck insert.
Specifications
Dimension: 7.5 x 5.5 x 4.7 inches

 Weight: 5.6 Ounces

 Gravity-fed hopper

 Switch between .50 caliber and .60 caliber paintballs

 Reinforced feed tube which works with any feed neck

 Wide mouth lid
PROS:
Change calibers by opening with a screwdriver and pop out the neck insert

 Ideal for pump players who prefer to use the .50 cal balls

 Low profile when fitted on a marker

 Decent 10 BPS gravity fed loader
CONS
Not immediately obvious, you need a screwdriver to open and remove the neck insert before it will accept .68cal balls
Virtue Spire 260 Hopper
There's a lot to like about the Virtue Spire 260 Hopper, but its huge paintball capacity is what really makes it stand out in the crowd. With the ability to effortlessly hold up to 260 paintballs, it allows players to get off an extra 60 shots between reloads. So, while your competitors are busy reloading, you can be picking them off one by one!
Aside from its impressive capacity, the Spire 260 has a number of other great features as w ll. With its jam-free feeding system, compact tool-free design, shot activated sensor, and vertically stacked air box, it's one of the most user-friendly, high-performance hoppers available.
Although it doesn't feed quite as fast as a rotor hopper, it manages to provide an impressive BPS as well, making it an excellent overall option for any serious baller.
Specifications
Electronic paintball hopper
Speed feeder
Jam-proof technology
Shot-activated sensor
Tool-free disassembly
LED cover
Runs on three AA batteries
Paintball capacity – 260
PROS:
Impressive paintball capacity
Smooth, jam-proof performance
Excellent overall design
28 different color and style options to choose from
CONS
Empire Z2 Prophecy Hopper
The Empire Z2 Prophecy Hopper is another top-performing loader option worthy of a spot in any player's gear bag. A noticeable step up from the already impressive Prophecy, the Z2 Prophecy offers sound-activated force feed technology for fast and effortless feeding time after time. As one would expect from an Empire, it also features infrared sensors to prevent untimely jams in the heat of battle.
To top it all off, the cutting-edge Z2 is designed to continually monitor its rate of fire and drive force for the best possible performance at all times. In the single blink of an eye, it performs more sensor readings than any other paintball hopper ever made.
Made of super strong and durable reinforced composites and featuring a lightweight, low-profile design as well, the Empire Z2 Prophecy is one of if not the top paintball hopper around. If you're reading these paintball hopper reviews hoping to find a world-class hopper at a reasonable price, look no further than this Empire. It won't disappoint!
Specifications
Electronic paintball hopper
Reinforced composite construction
Low-profile design
Infrared sensors
Anti-jamming mechanism
Continuous drive force and rate of fire monitoring
Magnetic lid
Runs on a 9-volt battery or four AAs
20+ BPS firing rate
Paintball capacity – 200
PROS:
Very fast and responsive
Hardly ever jams
Provides consistent feeding performance
Easy to use, disassemble, and clean
Great for all types and styles of play
CONS
Can't really think of any
Points to Consider When Purchasing a Paintball Hopper
From inexpensive gravity hoppers with slower BPS but greater capacity to sleek and sophisticated electronic models with faster feed speeds and features galore, saying there's a wide-variety of paintball hoppers out there to choose from would be an understatement. With so many options, how do you know which one to choose?
If you didn't find a clear cut winner in the reviews above, considering the following factors will definitely help you make up your mind on the right paintball hopper for you.
The capacity of a paintball hopper is simply the number of paintballs it can hold when filled to the max. Capacity is important to consider regardless of your style of play, but it's especially important for speedball and field players. Most quality paintball hoppers have a maximum capacity of 200. However, some models have the ability to hold even more.
Whether you find yourself knee deep in the muddy woods, combating dust in the desert, or on a field with paintballs zooming at you from all directions, the reliability of your hopper will be crucial for your success. Unfortunately, even basic gravity fed paintball hoppers can be unreliable at times.
Therefore, electronic hoppers that force 20 balls a second through your gun are bound to malfunction even more. Nonetheless, some paintball guns are more reliable than others. So, if you want to spend more time shooting your paintball gun and less time shaking it, make sure to choose a model with proven reliability and anti-jamming technology.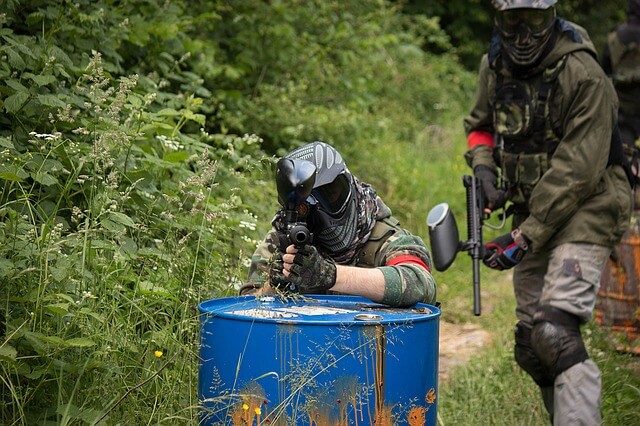 Maintenance is also really important with paintball hoppers. They must be kept clean, paint-free, and charged up in order to avoid jamming and feed properly. As you can see from the reviews above, many of the best hoppers are designed for quick and easy tool-free assembly and disassembly, which makes cleaning and maintenance a breeze.
Every electronic hopper relies on some sort of system to feed paint down its feed neck and into a paintball gun. Some electronic hoppers are more reliant on gravity, while others like the Dye Rotor force paint through more aggressively.
Although the internal parts of electronic hoppers are designed to withstand being dropped and shot, they're obviously more sensitive than simple gravity fed hoppers with little to no internal parts. The durability of an electronic paintball hopper basically boils down to how well it protects these parts.
By considering these factors and a few more such as your budget and style of play, you're guaranteed to find a great hopper that will serve you well for days, months, and even years to come.
Making the Decision
Paintball is a thrilling, action packed sport that requires a solid gun and an even better hopper. If you've made it this far, then you know full well just how important a paintball hopper is for your performance on the field, in the woods, or in any environment.
You also know all about the ten best paintball hopper options on the market today. All you have to do is decide on the right one for you, click the buy button, and get ready to crush the competition with your smooth, rapid-fire performance.
If you're still not sure, go ahead and read the paintball hopper reviews above one more time. Don't take too long, however, because your competition is likely upgrading their hoppers and gear right now as we speak!